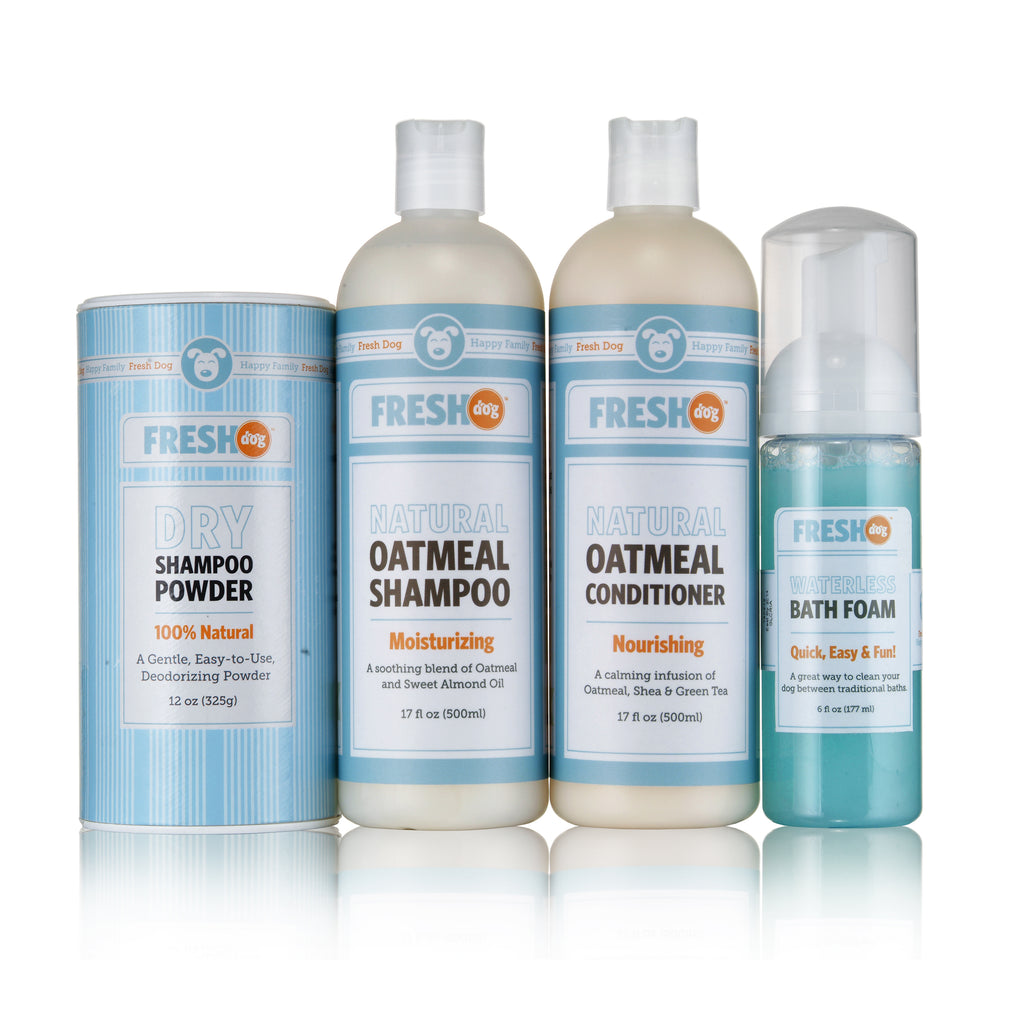 Fresh Dog Dry & Wet Pet Grooming Set
Features four Fresh Dog® bestsellers for normal "wet" grooming needs (traditional shampoo and conditioner) AND on-the-go cleanings:
Fresh Dog Dry Shampoo (12oz) is a gentle, easy-to-use, deodorizing and fur-freshening powder. Instantly revives, detangles and rejuvenates that pretty coat and soaks up yucky buildup, all with perfect pH balance. It lets you clean your best friends and make them smell perfectly fresh without the need for a messy bath. It's dry shampoo for dogs!
Fresh Dog Natural Oatmeal Shampoo (17 fl. oz. / 500 mL) is a wonderful moisturizing shampoo crafted from Natural Colloidal Oatmeal and pure extracts of Sweet Almond Oil, Coconut and Echinacea, to promote healing and naturally disinfect. These gentle ingredients combine for an aromatherapeutic experience that calms, cleans and soothes.  
Fresh Dog Natural Oatmeal Conditioner (17 fl. oz. 500 mL) features Natural Colloidal Oatmeal for a reason: it offers natural relief for dry, itchy, irritated skin. Coupled with all natural oils that are packed with Vitamin E and Essential Fatty Acids, this gentle formula moisturizes, repairs and protects. Leaves your pet's coat healthy, shiny and soft. 
Fresh Dog Waterless Bath Foam (6 fl. oz. / 177 ml) is quick and easy way to freshen your best friend between traditional baths. It cleans and conditions even the most mischievous dogs and puppies without water or rinsing. Foams quickly - just massage pets clean. For all hair/fur types, this anti-static, stress-free formula repels dirt and leaves no sticky residue. Is your dog a fresh dog?®
All products tested with love on humans and dogs, often at the same time. Made in the USA.